Facebook Ads Management For Just $995/month
Looking to get more High Revenue Patients? Do you offer traditional Braces, Invisalign®, Implants, All-on-4, Veneers?
Watch this short case study video that shows you the behind the scenes look at how we got a local dentist like you:
✅ 64 Orthodontic leads @ just $13 per lead
✅ Over 400+ #1 rankings on Google™
✅ The best automated lead "Follow Up" system available
✅ Why a Pixel is a game changer for your practice
✅ The importance of a non-compete for advertising
✅ How to get #1 rankings in search engines like Google™ to get more patients
Our fees start at only $995 per month! That's a fraction of what others charge… and if we don't get you new clients… we give you your money back!!
Facebook is becoming more of a pay-to-play site and you need to run Facebook ads each month to reach your perfect clients.  In our opinion, Facebook Ads are one of the most under-utilized and cheapest sources of marketing to your perfect client on the web right now. Here are some of the great things that you can do with Facebook ads:
Build your e-mail list
Target your competitors fans
Target your perfect clients by demographics
Target your local market
Reach more of your fans for pennies per engagement
Use conversion pixels to see exactly how much it costs you to get a new patient or e-mail subscriber
Advertise to people who have visited your website (Retargeting)
We have been running Facebook ads for Dentists & Orthodontists and our own agency for many years and We KNOW WHAT WORKS.  We have run successful campaigns starting from $5/day all the way up to ones running for $20,000/month.
We recommend running a set of ads to split test what converts best for you.  We will design and set up the best set of Facebook ads and then give you  a report on which ads performed the best.  Here is an example of how we set up split testing: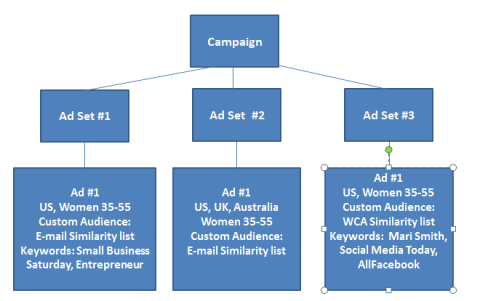 Facebook ads have become more complex with all the different choices and we will guide you to the perfect ad choice for you.  If you don't match the right ad vehicle with your goals, you can end up wasting a lot of money!  No one wants that.
Don't spend weeks trying to learn all this on your own, let us help kick your ad campaign off right.